I've never done a book tag, so what better way to start than with a Harry Potter one that I saw over at 
Let It Ramble On
 , and since I absolutely love the Harry Potter fandom it was fitting.
Luna Lovegood: A Book You've Read That's Really Weird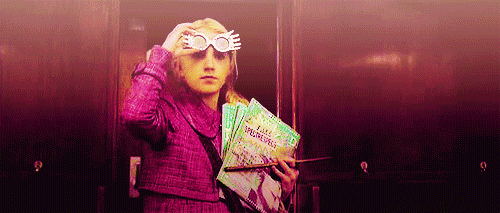 Hmm, a weird book? How about a book with a romance that struck as utterly weird for me? Does that work? Yes, okay then i pick Fly on the Wall by E. Lockhart, the plot for this was a weird one. It was your ordinary 'I wish I was a fly on the wall in the boy's changing room' just so you can listen to all the gossip or spy on your crush. But in this, she actually transformed into a fly, for the a couple of days, and to be fair it was an okay book but I felt like i was trudging through the book. I didn't hate it but I also didn't love it.
Dolores Umbridge: A Book with a Really Nice Cover that you Disliked
The Twelve Days of Dash and Lily was part of the Zoella Book Club picks, and had such a beautiful christmassy cover. Unfortunatley for me it took me forever (literally 3/4 way through the book) before it started picking up for me. It wasn't enough for me to keep hold onto it, so I gave it to my local library instead. Here's the review for the book, so you can see my thoughts on it.
Fred and George Weasley: A Book That Made You Laugh
For me, that would be the entire A Court of Thorns & Roses series, I just appreciate how down to earth and dorky the characters feel for me. And they're so utterly adorable & relateable! Please Queen Maas, don't hurt my babies. But i am totally ready for the next book, all about Nesta & Cassian in the mountains? S.O.L.D.
Hermione Granger: A Book that Makes You Feel Smart for Having Read It
I honestly don't know. I haven't read any classics or such recently, nor will I. It's just not my thing. Although I'm feeling more smarter about the whole fantasy world, so I guess I have The Raven Boys, A Court of Thorns & Roses & Empire of Storms to thank for this.
Sybill Trelawney: A Book You Haven't Read Yet (or hasn't been released yet) that you Just KNOW You're Going to Love
I know for a fine fact that I will utterly love these two new books, and they're not released yet! So .. Kingdom of Ash by Sarah J Maas, the final book in the series & I have such high hopes for it and for how it'll turn out. Please i just want to see more of Manon! The other book is Songs About a Boy by Chris Russel, the final book in the triology. I just want to see more of Olly & Gabe & Charlie, like omg. I just want all my babies to have such happy endings or I'll be utterly heartbroken!
Severus Snape: A Book That Had Mixed Reviews, That You Either Really Enjoyed or Really Disliked
Okay for this I'm obviously going to mention Heir of Fire, Queen of Shadows & Empire of Storms – all by Sarah J Maas. I picked all three of these up this month & I utterly loved all of them! I loved Empire of Storms the most, but i also loved Queen of Shadows. I've heard a lot of mixed reviews but I decided to ignore them all and go into it with an open mind. And oh my god, I just LOVE Manon Blackbeak so much, she is my ultimate book girlfriend, she's just … ugh I JUST LOVE HER! I want to see more of her, Elide, Asterin, Aedion, Lysandra, Rowan & Aelin. I don't give two flying effin fucks about Lorcan, he can go rot in a cell for all I care. Ugh. Please I need Kingdom of Ash sooner! Also I plan to read Tower of Dawn in October, closer to KoA release date so I can get hyped up about it!
Harry Potter: A Book From Your Childhood
Oh my all time favourite series .. let's just go with series, since I loved & re-read all the books in it multiple times while growing up. That would be the entire Horses of Half-Moon Ranch. I was obsessed with horses while growing up, and had the chance to actually study Horse & Pony care, which saw me getting up & close with all the horses & caring for them. I have this book to thank for it & it's the reason why Lost Water Valley in Colorado is on my bucket list. That dude ranch needs a visit from me.
And, so that's it for the tag, I hope you liked this post & let me know if I should do more tags in the future, I love reading/watching them so I'll have more fun doing them myself too! Also comment your favourite Harry Potter character please!
Until the next post.
BookishPaige_